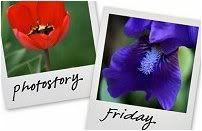 Hosted by Cecily and

MamaGeek

I have a collection this week detailing the last two days.




Yesterday, I was sitting at the computer when all of the sudden the Tornado siren goes off scaring the bejesus out of me. I look out the window to see what's the deal and it starts hailing golf ball sized chunks of ice. Those white spots are hail stones. For those of you in non-tornado areas, generally speaking if the sky is green, there is no wind and it starts hailing like a mother, it is not a good sign.
This is some of the stones on our deck. Peanut Butter and I sought shelter at this point and wait for the all clear. It continues to rain. I should add it rained about 8 inches last weekend.
This is the sky out our back door before the second siren went off. The clouds were swirling and swirling. It was incredible to watch how fast they were moving, yet there was no wind. Peanut Butter and I took shelter again. J called about every 45 min from work to ask how much water was in the basement. Not nearly enough to call every hour asking about it. We ended up getting a couple big puddles which is minor considering we live 5 blocks from the next photo.
Today I went down to a bridge 5 blocks from our house. You might have to actually click on this one to appreciate how far the river has flooded. There normally is about 4-5 feet of grass and another 2 feet of rocks from the river to the what I believe is a 5 ft tall chain link fence. You can't see it from this angle but one of the houses has an above ground pool in their yard and well, the water is lapping at the top of it. On Tuesday after all the rain we had last weekend the yards were just starting to take a little water, and there were people fishing on the rocks of the building side.
This is the other side of the bridge. The building that is in the middle of the photo which looks like the river is running right into, which it is, is actually on these pylon structures and the river normally flows underneath it. All of the businesses that these buildings hold have now been closed by law enforcement which think the structures may be compromised by all of the water. The front of the building in the middle is starting to buckle inward.
They have blocked of the road in front of that building tonight, and I think it may not be there tomorrow. I believe the first brick one on the right was on the news tonight having been deemed unsafe before any of this happened.