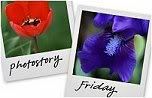 Hosted by Cecily and MamaGeek
Peanut Butter's
Birthday
was on Monday. They made her a crown at daycare, which apparently needed some princess-ing up.
We had a packet of princess stickers that she stuck all over the crown, every which way. After she covered it with an entire sheet, she was then ready to play.
There is nothing better than a birthday Princess.