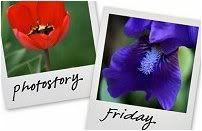 Hosted by Cecily and

MamaGeek
This is my Peanut Butter in July of 2007. She is just a little over 10 mos.
We are at a Little League tournament that her brother is playing in.
This weekend she really gained her walking legs. She had been walking using the walls and pushing her car around for a quite awhile. But the whole world opened up to her over a couple days. I was amazing to watch her wonder and excitement, but exhausting chasing her all over the place. I haven't been able to watch a game of her brother's in its entirety since.