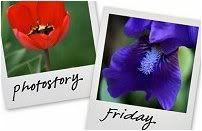 Hosted by Cecily and MamaGeek
How To Eat a DQ Oreo Blizzard


J decided we needed Dairy Queen the other night. I told him to get Miss Peanut Butter a small oreo one, when he returned I realized that the small wasn't as small as I had hoped it would be. I decided to put some in a bowl for PB; she said, "NO!" and then, "NO, NO, NO!" I asked her if she wanted to eat from the cup and she vigorously nodded yes. I hand her the cup and......

She manages to eat more eye-key than I had thought she would,
then again, it is ice cream and who doesn't eat more than they should.



She is prouder than all get up that it is all gone.
The next day I get out the left over that I had in the bowl, which thankfully had a lid, and she ran to the garbage wanting to pull the blizzard cups out. Apparently it isn't a blizzard unless it is in the cup. But I made her eat it from the bowl anyway.