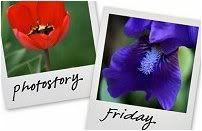 Hosted by Cecily and MamaGeek
This is a photo of my daughter, @ about 20 months, that I took on out first official trip to the park. She had been on swings before, but this was her first chance to go on the slide and do her favorite thing-climb. J and I both have come to realize that this girl is fearless. She will not let anything get in her way if she wants to get somewhere. She has the smarts so push thing over to climb up on, she will flip over rubbermaid totes and climb up on those, and she seems to have super human strength in her arms to be able to pull herself up on to anything.
While we were at the park, I thought nothing of this little apparatus, I figured she wouldn't attempt it, that she wasn't even big enough should she want to try. Boy, was I wrong. She took on each beam with the precision of a skilled climber. Had I not been too worried about her cracking her skull, she was going to attempt to stand on the top one to walk over to the platform. She's not quite steady enough for that one.
I think it is great that she is fearless, she is the total opposite of her brother in this regard. I just hope as she grows up she will find kicks doing adventurous things: gymnastics, snowboarding, rock climbing. I hope she is like my brother in this department or like Shawn White, who I had seen a story on about his fearlessness and how snowboarding fills that outlet. I hope she won't need something else to test her limits.