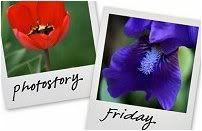 Hosted by Cecily and

MamaGeek
At home Peanut Butter doesn't really let me read to her so we go through books by pointing and "was that?" and if it has animals we do their sounds. In one of the books there is a scene with a wolf and we howl and it also has an owl and we say, "hoo hoo"
The other day when we went to the pumpkin farm. We came along a tepee with a little totem pole. A top the totem pole was a little owl and the first thing out of Peanut Butter's mouth was, "HOO HOO!!" She even put her hand up to her mouth to amplify the yelling. Something must be coming out of the semi reading sessions we have.
*Just a disclaimer I try to comment on everyone's blog that comments on mine, but I will be out of town for 2 days. I will try to catch up on Sunday.