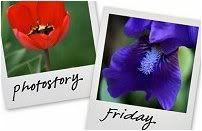 Hosted by Cecily and MamaGeek
These are from Peanut Butter's first time Trick or Treating last year.
She liked walking up and down the block. We didn't venture
too much further. Heck, she was only one.

She did however find out what candy was.
She attempted to eat most of it through the wrappers though.