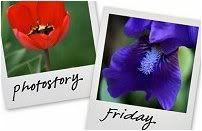 Hosted by Cecily and

MamaGeek
When I saw this photo uploaded in my picasa I immediately though of
Candy
. This woman is an inspiration. I love reading her blog, she puts a lot of herself out there and she runs. She is running the NYC marathon this Sunday. Not only is she running 26.2 miles she is also running for Team for Kids and raised $2500.
The reason I thought of her is because when I put on my running shoes and attempt to run I think of her and Kathryn. They are the made up voices in my head that keep me going when I want to stop. Now I don't run very far and I don't run very fast, but Peanut Butter must enjoy some of the time in the stroller since she will throw my shoes at me and as this photo shows, put them on. Hopefully, she'll find something active she'll like to do, and find inspiration from other women like herself that just get out there and do it. If you think of it Sunday morning, think a positive thought for Candy, she's nursing a sore hamstring, to maybe uplift her and help her finish. You go Girl.
If you were hoping to see Miss Peanut Butter in her fabulous costume try HERE.