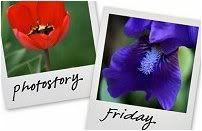 Hosted by Cecily and MamaGeek
The other day Miss Peanut Butter was banging her hinder
against the garage door. I kept wondering what in the world was up.

She then tried pulling up the garage door while
alternating banging her hinder.

Until J said, "She knows the car is in the garage."
She's a smart one. We got the car out and she zoomed around.
That certainly was one of the best dollars I've spent.