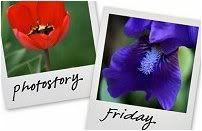 Hosted by Cecily and MamaGeek
Since we are fast approaching year #2, I decided to go back to the same time last year. Miss Peanut Butter is a curious little thing. If there is something new, something that is placed out of reach, something her brother may have left laying around, she will get into it. The Boy brought home his football equipment and for some reason that only he and his dad understand left the bag on the dining room floor.
Peanut Butter trying to appear innocent as a football helmet has started to work its way out the the equipment bag. She really wants to say,"I'm just sitting here minding my own business." But since she is only babbling at this point, I'm assuming that is what this look means.
Upon questioning Miss PB does famous "What" shrug that everybody knows to associate with guilt. She is not wearing the Daddy's lil Rebel shirt just because it is cute. Oh no, she has a mind and will of her own.