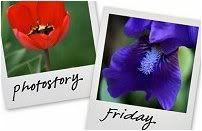 Hosted by Cecily and

MamaGeek

Last week was a tough one for us Daddy wise. J was gone just about the whole week. He was at a conference Tue Night though Friday morning. The other nights he had to be down at our baseball fields because we had the Little League District tournament for 9-10 year olds. He even missed two of The Boy's games because of the tournament. I was becoming a bear feeling like a single mother. J made it to The Boy's tournament on Saturday night. Peanut Butter was so excited to have Daddy, but the they decided they needed him to take book, so she headed in the dugout with him.



Just hanging with Daddy catching the game.

Baseball is over in two weekends. As much as I enjoy watching what parts of the game I get to see. I will be very happy when it is over and the time it demands from J. I'm sure PB will be too.