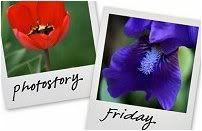 Hosted by Cecily and MamaGeek
Miss Peanut Butter was entranced with trying to put rocks through the hole in the stairs of the slide. The rocks we a big hit with a lot of the kids. But she just sat there and tried like heck to get the rocks through the holes. Which allowed me to take this....
I actually took a cool photo. Well I think it is anyway. I fell in love with it as soon as I downloaded it. The sky is so blue and she just seems to pop. It is just the little things.

Not much of a story, but that's okay, I hope.