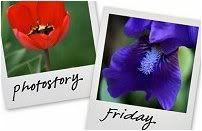 Hosted by Cecily and MamaGeek
This seems to be a common occurrence around here these days. Thankfully she is keeping at least the diaper on; half naked was the first preference. I started to suggest some potty training since we're running around with no pants on, but it isn't really taking. I may just have to stick the Little Mermaid underwear on and go with it. She wants to wear them, since in wallyworld after we picked them up and put them in the cart, she decided as I was picking out some pudding snacks to take off her shoes, socks, pants and working the diaper as I turned around and caught her in the attempt to put them on.
I don't know how visible it is, but today she also decided to play with whiteout as I walked in the house from the gym. It was my fault she got into it while I was gone since I should have know she would find it, since I can't remember the last time I used it and my husband has the office supply addiction. I am hoping I can get it off of her skin and that her Daddy will talk to her again.