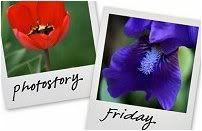 Hosted by Cecily and MamaGeek
Almudena Cathedral In Madrid

I am a little odd and one of the things J finds quirky about me is while I am an atheist, I love beautiful churches. I love stained glass, altars, all the other intricate beautiful things that are in churches. This is one of the top ones I have been in.
As you can see from the outside it is huge. It has a very large front courtyard, tons of little steeples and wonderful architecture.
The ceilings were amazing. This is just a small taste of what bold and exciting colors adorned the ceilings. This is the huge dome you see from the outside. The murals that ring it were also breath taking.
The stained glass in this Cathedral was really unique. It was almost a taste of different periods in art. I thought this one with all the triangles was really neat. I also have a thing for nuns too. I don't know why.
This one seemed more traditional in its look. Stunning none the less.
This one was more modern art deco-y if I'm using the correct term. An interesting mix I'd say.

A small sample of what beauty this cathedral had to offer.