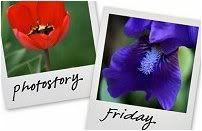 Hosted by Cecily and MamaGeek
Photostory Friday: The Salt Explosion



I decided to take a shower this morning. I was a wee bit nervous about Miss Peanut Butter, she had naughtiness in her eyes. I took a chance and pulled the chair far away from the computer desk, hoping this would discourage any climbing on the desk and coloring with a highlighter while I was washing up. I took a shower and as I exited the bathroom I heard the distinctive sound of someone on the computer desk. I froze and thought, "Crap, what did she get into."

She pushed the chair back up to the desk where she found the salt shaker, the salt shaker that is purposely placed on top of the computer desk so someone cannot dump it all over. By the time I got downstairs all that was left was an empty salt shaker.
Notice the untouched pepper shaker? She didn't want to mess with that for some odd reason. Like the little finger swipes? Nice, huh?
Salt was everywhere! I didn't even know where to start. I got the shop vac out and just vacuumed. I am still finding grains of salt all over. What a stinker!
You may be wondering what this nice little stacker box is doing here on the floor with a sippy cup next to it well it is because someone just got done doing this .............