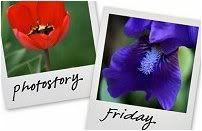 Hosted by Cecily and MamaGeek
The Magic of Bubbles
Earlier today Miss Peanut Butter got up from a nap just screaming. If that wasn't bad enough, she was screaming for Daddy. Since when am I not good enough? I put a call into Daddy at work hoping this would end the tirade, it however did not.

This is the scene an hour after waking from the nap. I told her to get her brother and lets go outside. Ah, the magic of bubbles.
There it is, a huge smile on her face. She is so into bubbles right now, if she could be out side with bubbles all day she would.
She even got her brother out of his cave and shooting bubbles. I'm sure we'll be blowing a lot of bubbles tomorrow because the weather is going to be gorgeous.