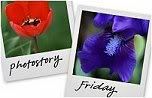 Hosted by Cecily and Carissa
This morning Peanut Butter asks if she can go swimming, which means she wants run around in her underwear like a crazy person. As I help her get her shirt off I see this:

She has scratched herself raw again. Yes again, she scratches herself raw at least once or twice a month. I am at my wits end on how to alleviate the itching. I have tried almost every cream under the sun. I have seen a dermatologist, who's famous last words were, "you have to live with it." I am going to try some primrose oil and go from there. If anyone has any other ideas let me know.