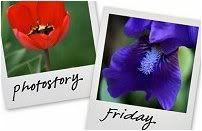 Hosted by Cecily and MamaGeek


In my desperation to get Peanut Butter potty trained I had her pick out a pack of underwear she would like hoping this would be some needed motivation. She picked out Diego, these happen to be boy underwear, but at this point I do not care. The thing about Diego underwear is the cool pictures are on the back. She was upset she could not see Diego and the monkey.

She decided she wasn't going to wear them the way they were supposed to go if she couldn't see the picture.
Apparently this is much better.
My friend and I were discussing our potty training woes and she practically has her boy all set. I have been, to be honest, a push over here. I was giving in to wearing pull ups and not "forcing" issue. I'm glad we had our chat, I put Peanut Butter in underwear this evening and she has been dry since 4:30pm. We even went to her brother's baseball game without an accident. I normally would have put her in a pull up just to avoid the accident, but I brought a change of clothes and all went well. I explained to PB at bath time that we were not going to wear diapers during the day anymore. She moaned a little and I said now lets get on the potty she pulled the step over and got on the potty and went. Why the heck didn't I do this sooner? I'm glad my friend kicked me in my hinder.