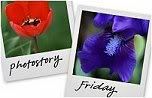 Hosted by Cecily and MamaGeek
What are the chances that Miss Peanut Butter will want to be a catcher?

J and I were both catchers in high school. I think it would be neat if she was too. I loved catching, even on the hottest of days a part of me still enjoyed it. Don't worry I won't push it, but she loves to put the mask on.