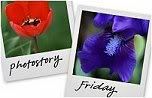 Hosted by Cecily and MamaGeek
The Concession Stand Queen
My husband is the Vice President of our city's Little League, because of this he feels the need to be at the baseball fields every week night. I feel the need for Peanut Butter to see her father for at least a little bit, so every night we walk down to the fields. As soon as we get there Peanut Butter does a B-line to the concession stand. It starts out innocently enough with a freeze pop, which are nice and cheap at 10 cents. It progresses from there to her asking for ice cream, hot dogs, pop corn, pretzels, ring pops, and water. On some nights this girl will put away all of those items, on some nights I put the ka-bash on a lot of them.
Green seems to be the only color that Peanut Butter can remember so she always ends up with a green freeze pop, which are lime. I think they are disgusting. I have turned her on to these yellow ones that are pineapple and are de-lish. I normally don't get anything, but I have been getting these. She has started to ask for the "apple" ones too.
The gals that work in the concession stand are great, they let Peanut Butter hang out and they play with her a bit. Last night she pulled out a pillow and laid there right in the middle of the floor. She is funny because if she decides she wants something and is inside the stand, she will quick run out around to the front to order it, gets what she wants, and runs back in. Goofball.
Our concession stand has been broken into 4 times this summer and has taken quite a hit. A company even donated cameras and the thieves destroyed them and the dvr Tuesday night. It was a lot of damage for candy bars. I hope they get caught soon.