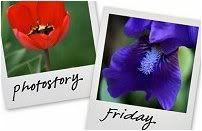 Hosted by Cecily and MamaGeek
Today at work one of my coworkers asked if Peanut Butter was picking all of my flowers and I said. "No, I don't have any up." He said, "You don't have any?" I said no and wondered what he was getting at. I said, "Wait, I do have lilies, but they aren't even close to blooming." He shook his head, and said, "No, those flowers," as he pointed out the window at the field of dandelions. Duh, but again I said no, we don't have very many in our yard.
Well tonight at her brother's baseball game she found the dandelions.
She also for some strange reason had to carry a blankie around this evening, she has never had a "lovey" per se. At least she found a stick to even things out.
Hopefully, her brother doesn't have to many games at this field because I didn't see much of the game.