Nativity Scenes
One of the things I noticed in Madrid is they love their nativity scenes. On the Saturday night we were there, we came upon this shed set up with a huge nativity scene in it. We though, "oh that's neat let's take a look and as we rounded the corner there was a huge line down the block to look at this scene. They were probably waiting at least 30 min to walk through a shed to look at a nativity scene. The next day we found this Christmas market in the Plaza Mayor. My Mom bought one of those hanging Santas that I showed last Friday. They had loads of ornaments, lights and trinkets for sale.....
They also had the motherlode of nativity scene pieces. You want a little clay bottle to add to your scene they had it. A big castle? check, any animal under the sun? check, palm trees? size small? check, size large? check. A plethora of kings, mangers, Marys, Josephs and of course Baby Jesuses. We aren't talking one or two stalls here either it was stall upon stall. Cutesy ones, huge ones, tiny ones, you name what you want they had it somewhere. I have never seen anything like it.

Here is one of the cutesy sets I saw. I didn't even look at prices on any of them I probably would have tried to take home a whole set.
This isn't a nativity scene, but I though it was a neat set of carollers made from chocolate. They had pigs made out of pastry and mice made out of something too.
Friday Miss Peanut Butter recieved a nativity set of her own from her Aunt. She loves pushing the top of the manger to play the music.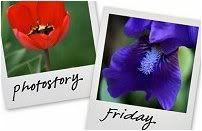 Hosted by Cecily and MamaGeek
I know it's Sunday and not Friday, but I'm behind on everything.