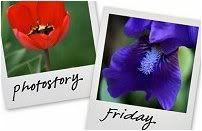 Hosted by Cecily and MamaGeek
Mixed Emotions

It snowed again the other day. I thought I would show you just what
mixed emotions Miss Peanut Butter has about the white stuff.

Here she is after begging to be put in her jacket and boots.
She is waiting to go outside with Daddy, who is going to
shovel some snow.

She got very impatient waiting, but we set her out on the deck
as soon as Daddy was ready and this is what we got.


She may have perked up at the end of this video, but she reverted right back to
hating standing in the snow. Daddy came up and shoveled the deck and stairs off.
She then walked down the stairs only to be disappointed that Daddy wasn't going
to shovel a whole walk way for her where she wanted to go. Someday she maybe she
will actually want to play in the snow and not just admire it.