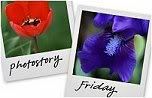 Hosted by Cecily and Izzy 'N Emmy
This summer I attempted to grow some veggies in hopes of saving some money. My tomato plants didn't grow so well as you can probably see from the first photo and one of the plants Miss Peanut Butter keeps taking the green ones off of it. Despite my brown thumbs, a new friend has set up shop between my tomato cage and the side of the house. Peanut Butter likes to check up on him or her everyday. Normally I would have tried to get rid of our new friend because, quite frankly, spiders are the one thing I cannot stand at all. As long as PB likes to check in on our friend he or she has a home for now.

This is Peanut Butter checking out our spider and for fair warning the next shot is our eight legged friend. Or should I say seven legged.
This spider is actually pretty big in comparison to the other garden spiders we have overtaking our deck. I have a feeling it has seen a battle or two since he only has seven legs. The first day we found him he had a yellow jacket wrapped up still wriggling around. It also seems to sit out in its web all the time, whereas the other million around here hide during the day. If I could stomach looking for what kind of spider it is I would, but I don't want to have nightmares. The other night we let the dog out and our night time friends were about their business and PB says,"Oh a spider" and I thought she said she wanted to touch it and I asked her, "you want to touch the spider?" as I'm trying not to hyperventilate if she says yes. She says, " No, spider's bite." Whew.